Ithaca by Firelight Camps, New York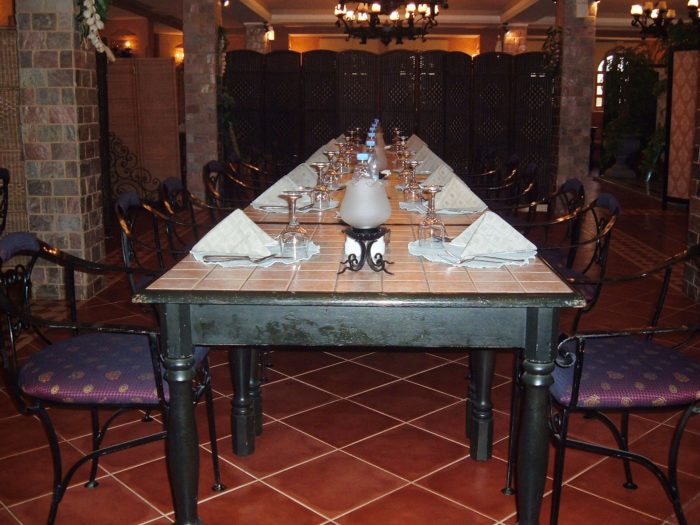 By the time we checked in, it was about 5:30 pm on a Wednesday and the sun was just beginning to set. At that hour, with the trees silhouetted against the darkening fall sky and twinkly string lights casting a soft glow around the Firelight Camps, the vibe was hushed and just a tiny bit spooky — like at any moment we'd hear the howl of coyotes approaching from the distance.
Of course, Firelight, a stylish Little Finger Lakes "glampground" tucked into the woods behind Hotel La Tourelle isn't really all that remote. Just a quick 8-minute drive from downtown Ithaca, the most threatening wild animals around are most likely to be college students eating cheap Thai food and drinking $2 beers in the Commons 3 miles away. Not that you'd ever know it, though: On the first night in our kitted-out canvas tent, with the smell of campfire in our hair and our fingers cold from the autumnal air, the moon was so bright and the sky was so clear that it felt like we were much, much farther away. We snuggled up in the fancy king-sized bed under the giant feather duvet and listened.
Though we never heard any coyotes, we did hear this: The soft rustle of a million golden leaves and the quiet coo of a dozen owls nesting in the branches above. Not quite roughing it, but just rustic enough.
Some Popular Restaurants near Firelight Camps:
Coltivare – Ithaca:
This restaurant located from the downtown Ithaca culinary center. Coltivare contains regional wine, beer, and craft cocktail for its special guests. The opening time of this restaurant is Tuesday to Sunday of a week. But sometimes it offers it is guest special hours or happy hours during any festive time. The latest and modern atmosphere is roaming in this restaurant. Here you can get various types of delicious menus such as grilled chicken, basmati rice, petit salmon, cauliflower, mushrooms, potatoes recipe, burgers, Chicken Amatriciana, Korean BBQ Pork Belly, Farmer's Choice Steak, Citrus, and Soy Glazed Salmon, Fettuccini Sugo Rosa, Lobster Ravioli, Quinoa and Wilted Kale Salad, Artisanal Salad, Regional Cheese Display, Vegetable Flatbread, etc.
Texas Roadhouse – Ithaca:
Texas Roadhouse is one of the best restaurants in Ithaca. This restaurant gives you the scope to enjoy your life during your trip time in Ithaca. It provides American cuisine of varieties. When you travel with your family to should choose this restaurant as it gives you proper services, take an outstanding tour with your family. From here you get delicious recipes like Fried Pickles, Combo Appetizer, Texas Red Chili, Cheese Bites, Rattlesnake Bites, Boneless Buffalo Wings, Killer Ribs, Grilled Shrimp, Tater Skins, Cactus Blossom, Chicken Caesar Salad, Steakhouse Filet Salad, Grilled Chicken Salad, House Salad, Road Kill, Dallas Filet, Steak Kabob, USDA Choice Sirloin, Prime Rib, New York Strip, Porterhouse T-Bone, Grilled BBQ Chicken Combos, Ft. Worth Ribeye Combos, Dallas Filet Combos, Chicken Critters, Portobello Mushroom Chicken, Fried Catfish, Country Fried Chicken, Grilled Shrimp, Grilled Pork Chops, Country Fried Sirloin, Country Veg Plate, Pulled Pork Dinner, etc.
Gola Osteria:
Gola Osteria located inside the Historic Quarry Arms in Ithaca and was opened in 2014 December. Here you get expensive and unique dinner menus of sauces, homemade pasta with delicious ingredients. This restaurant welcomed you and your family friends with classic cocktails and Ithalian recipes. This restaurant opened Wednesday to Sunday from 5 p.m to 10 p.m. It provides good customer services with good food services that you want to visit again and again. If you want to celebrate any event then Gola Osteria is the best option for you.
ZaZa's Cucina:
From this ZaZa's Cucina you can get the best hospitality. It provides excellent food and customer services. Amazing fine wine and elegantly designed space an amuse you. Having mouthwatering menus you enjoy the day. Some menus' are Baby Kale, ZaZa's Caesar, Ruby Beet, Prince Edward Island Mussels, Brussel Sprouts, Pasticiatta, Red Seafood Misto, Wild Mushroom, Smoked Mozzarella Ravioli, etc.
Good to know
Ithaca by Firelight Camps is open from mid-May through the end of October. Though lanterns, super comfy bedding, towels, and a regionally-sourced continental breakfast are included in your stay, propane heaters are not — and you'll probably want one to keep your tent toasty on chilly nights. We did. Rent one from the lobby tent — where you can also buy s' mores kits — for about $20. Though you can't have your own campfire at your tent, the communal campfire is pretty great — they keep it going pretty much all day long, and there are tons of comfy chairs to cozy up in nearby, plus tons of locally-made wine to drink while you're there.