Find Out Few unofficial town square of Canggu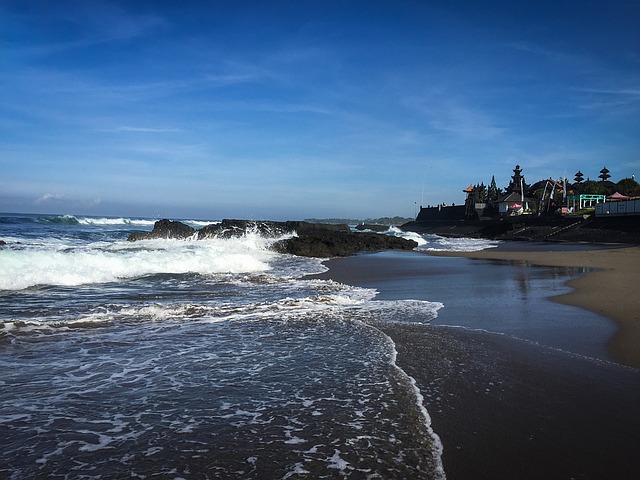 Old Man's may as well be the unofficial town square of Canggu. If you're staying nearby, chances are you'll find yourself there at least once or twice. Okay, probably a lot more.
Which is just fine. After all, not only does Old Man's have an excellent view of its namesake surf break at Batu Bolong, but it's also a pretty great place to have a drink, listen to some music, and watch the sunset over the sea. At any given moment there's something happening here: a live acoustic act, a televised soccer match on the TV, a DJ spinning old school surf tunes, or a random dance party and beer pong. In the off chance there's nothing planned, the people-peeping is still the best in town; anyone who wants to go to the beach or rent a surfboard has to park their scooter in the adjacent front lot.
But even if you aren't the type who enjoys lounging under giant fringed parasols and checking out hot surfer types whilst eating spaghetti, there are plenty of other reasons to love Old Man's: One, they have outdoor showers (perfect after a session in the ocean), and, two, your margarita will most definitely come with one of those adorable paper umbrellas.
Some Canggu Villas Close To Old Man's Canggu:
There are many hotels near old man's canggu those are very popular among the tourists. Old Man's is a famous beachfront bar that belongs with Batu Bolong Beach. Here are some popular villas close to Old Man's Canggu:
Arnalaya Beach House:
This is the perfect beachfront villa that provides a gym, spa, pool, lawns, and tennis court. Arnalaya Beach House is the example of modern stylish beach that situated in front of beach. It is the villa of five bedrooms and has large groups, harmonies settings, indoors and outdoors design, private spa facilities, swimming pool service, gym services, healthy food service. If you want to drink here you can do. This beach house is also hosting various events like wedding ceremony, birthday party, and other celebration. The living room has coffee table, comfort sofa, and you can overlooking the sea. It has 14-seater dining table, has media room, gym, garden, and pool.
Villa Wiljoba:
This villa is perfect for holiday. You can visit here with your friends to spend holiday. It located at the black sand and dark grey beaches. Villa Wiljoba provides worthy playground, the architecture of neoclassical villa, traditional touch of indoor design. You get best services from here that may be on foods, rooms, drinks, privacy, etc. This is a villa of six bedrooms that is accommodated and comfortable for your family. The features of this villa is satellite TV, DVD player, gym, private swimming pool, pool table, kitchen, AC, Free WIFI, and healthy food services.
Villa Shamira:
Villa Shamira is five bedrooms luxury Canggu villa that set for private purpose with beautiful gardens and colonial design. It designed as tranquil village setting and can enjoy visiting with your family and friends. This villa welcomes you with its utterly casual style. Here you get AC in the room, kitchen, private pool, media room, satellite TV, DVD player, WIFI access, spa services etc. The villa offers you are fruits basket, drinks, butlers, chef, house keeper, sweeper, security guard when you arrive with your family.
Ombak Luwung Beachfront Villa:
Ombak Luwung is a trending beachfront villa that offers amazing views of oceans; ponds fill with koi fish, peace, endless calms, and mind-blowing antiques. It is perfect for taking picture during holiday time with friends and family. The lawns show more beautiful as it framed by palm trees. The vast private pool memorizes you.
Mary's Beach Villa:
Mary's Beach Villa located Canggu, Bali that offers you traditional and modern living things. This villa has 4 bedrooms. Mary's Beach Villa is 100 miters far away from Old Man's Canggu. For enjoyment with family you can join this villa. It provides gorgeous pool, food services, delicious juicy fruits, beautiful gardens. Here eight guests can sleep as it provides this.
Above this content will help you to explore the unknown places and enjoy every moments of life without over thinking.