Get dressed with proper surfing outfits!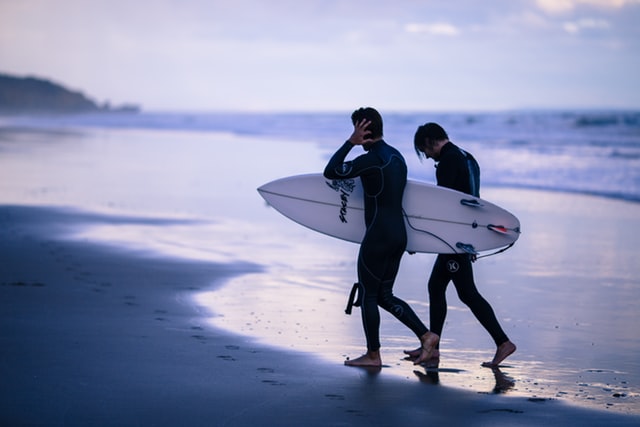 Going for surfing or going to a party, whatever girls need to dress up brilliantly. You cannot wander on the beach or go there from your home by just wearing a bikini. It will look entirely occurred.
Outfits for surfing are a combination of bikini to cool pants and tops are the necessary part of surfing outfits.  It is also required for the girls to look gorgeous on the beach while wondering or laying for a sunbath. Styling your hair, long and lightweight earrings, cool sunglasses, flat footwear are also required when going to a beach.
It seems many times that girls are always confused about what to wear, which will make her look attractive. Just stay here for a couple of minutes and then get ready for water adventures.
Easy tips for picking the best surfing outfits!
We have separated the discussion into three different steps for getting ready for surfing. Three distinct stages are picking the best clothes, hair styling, and make-up. Let's get into the topics to understand these steps briefly.
Step 1 – Outfits
Start with a bikini:
Bikini has always been a comfortable tool for surfing. Not any other surf swimwear can match the comfort level of a bikini. So the first stage is to pick the best bikini to play comfortably on the surfboard. For this, you have to follow the below-given factors to get the best one.
Bikini should be perfectly fit on your body.
Large coverage area will be preferred, and you will never get into any embarrassing situation.
 Dark-colored bikinis are good for surfing.
Thicker and elastic straps will ensure that your top is not going anywhere while doing different activities in the water.
Thicker, sturdy straps, and extensive coverage is also required for bottoms.
Stuff should be comfortable enough to avoid itching issues.
These are some significant factors that will help you to pick the best bikini for yourself. As we said earlier that there are more things for complete outfit aspect bikini to dress up with proper surfing outfits.
After choosing a bikini now, the time is to think about what to wear on the bikini for going to the beach and for wandering there. For this, you can try below-given tips.
Mix and match:
A mix and match approach can bring the fun with your outfits. You can try bandeau-style tops and boys short to look sexier. Apart from this, you can try below-listed options as a mix and match approach.
Mixing print and pattern outfits will be perfect for wandering on the beaches.
You can try neutrally colored top and bright bottoms to look more attractive.
Denim unbuttoned shirts and denim shorts will be more proffered for relaxed summer night outs.
If you want a combination of beautiful and practical look, then you can try surfer gears like a rash guard and surfer logo t-shirts.
If you want to look unique at beaches, then you can try the 60s vintage style unbutton shirts with new style jeans, skirts, and shorts.
Bright and shiny colors are more impressive ones. You can try gorgeous floral print and colorful patterns of tops and brightly colored bottom to bring more fun in the looks.
Other accessories:
Footwear:
Well, footwear wasn't required for surfing, but when you are wandering on the beaches, then it will add more attractions to your looks. You cannot wear high heels at this time. Flip flops, Birkenstock sandals, or strappy sandals can complete your outfits as surfing outfits. 
Strappy sandals will be more comfortable if you are planning for a night out at the beach. For cold nights you can pick combat boots with laces.  If you choose flow floral tops and bottoms, then brown or burgundy ankle boots will be perfect for your proper outfits.
Jewelry and others:
Before going to give ideas for jewelry, it is highly recommended to avoid expensive objects like gold or diamond. You can try long, dangly earrings with attractive stones and turquoise. As an option for a necklace, you can try a long chain with a pretty pendant to complete a beach look. The outfits which we can say are complete surfing outfits cannot end without sunglasses and a hat. You can pick felt, or cotton made hats with. Aviator style thicker colorful frames.
Step 2 – styling hair:
Long hair look:
If you are an owner of long and thick hair, then you can pick the most popular hairstyle to get a perfect beach look. For this, you have to follow the below-given instructions.
This hairstyle can be done with only damp hair. A rectangle should need to create from the end of one eyebrow to the end of the other one and make sure it is four inches back from your hairline.
Use volumizer spray on the roots and round brush to blow-dry the hair to make a tousled look.
After the hair gets dry, use three fingers to twist the rectangle endpin it with a bobby pin to form a pin curl.
Use the salt spray on the rest of your hair.
Now take out the bobby pin and use dry shampoo on the rectangle section.
After that, flip the possible rectangle section to one side.
The side part will arch on the eyebrow and angels back towards your crown.
Now you have a messy look with one big swoop at one side and one small at another side.
Step 3 – Make-up:
A light layer of waterproof mascara and a light shade of eye shadow are enough to give sexy looks to your eyes. You can finish your make-up process by applying lip gloss or light pink lip lint.
You are planning for a night out, then complete your look with bold eye make-up and darker lipstick to look sexier at the night party after surfing session.
Conclusion
These ideas of outfits can complete your task for selecting the best surfing outfits. Now, as we said earlier that the research had been over now go and get ready for an adventure with sexy looks.