Recycled synthetic fibers surf swimwear!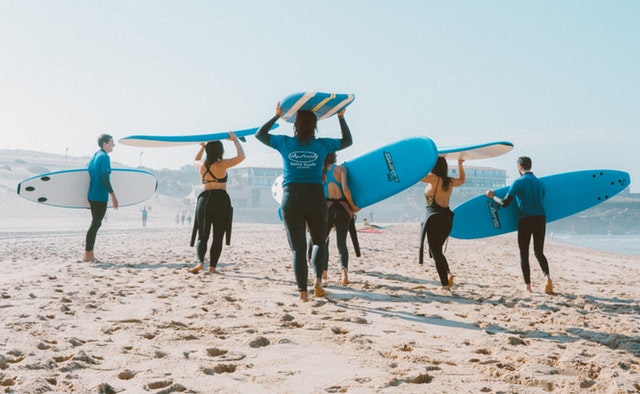 A new trend is on the air in the whole world that is avoiding plastics. All of us have an original resolution that we will never use plastic made things to save our environment. But you ever looked in your wardrobes?
If you are a surfer then surely you will have a collection of swimwear. Mostly the swimwears are made of nylon and polyester fabrics. Not only is the swimsuit, but 65% production of material depended on nylon and polyester.
The fashion industry is also putting a significant burden on our planet. It is because of these fabrics human-made greenhouse gas emissions. To reduce this issue, many of the fashion industry has started using recycled synthetic fibers to produce their suits. Sustainable swimwear can also be seen as a more comfortable and practical surf swimwear.
But there are still many questions that have encountered in the entire surfer's mind about these recycled fibers. Today, We are here to answer all of those questions.
What does it mean by recycled synthetic fabric surf swimwear?
Anyone talks about sustainable fabrics than the first thing that comes to our mind that is cotton and natural materials. These fabrics can soak water in it. This is the reason why cotton and natural fabrics are suitable for summers. It is because it can suck up body sweat.
But on the other hand, cotton and natural fabrics are not suitable for making swimwear. It is because no one will want to drag down by holding a large amount of water while playing in the ocean. There is no similar issue with nylon and polyester. But the problem is that these are made of petroleum products, and its extensive usage can harm our atmosphere.
The recycled synthetic fabric for making swimwear is the solution. For this, the fashion industry uses waste raw materials to transform them into virgin nylon. In simple words, most of the surfing's outfits industry collects waste fishing nets, old carpets, and plastics from the beaches and ocean.
These wastes are cleaned and sorted for recycling. After cleaning and sorting, the fashion industry transforms the usable raw materials into absolutely new nylon fabrics. These fabrics have purities and properties similar to virgin nylon.
This effort of the fashion industry is saving 70 thousand barrels of crude oil 57,100 tons of carbon dioxide emissions per year. This is a considerable contribution to the mission of protecting our planet.
Which industries are making these recycled synthetic fabrics?
Many of the fashion industries of Australia and England have taken part in this revolutionary step to save our atmosphere. These industries are providing eco, friendly fabrics to the whole world. The world is also getting advantage of this step because they are cheaper than the original nylon made swimwears.
Apart from this, most surfers are also feeling proud to select their swimwear from the recycled synthetic fabric surf swimwear It is because purchasing them and making it more popular among all the surfers is also a contribution to this beautiful idea for saving our planet.
You belong to any other country, then do not worry because these fashion industries are ready to ship their products at your home. You have to track their websites and place an order there. You can also try a more natural way, that is if any of your friend and relative is living in those countries where these recycled fabrics swimwear's are getting produced, then you can tell them to bring one for you.
This is just for fun! Online order would be the best way to get this comfortable swimwear. Now let's have a look at a small collection of swimwear that is made of with these sustainable fibers.
Batoko :
Batoko is a famous fashion industry of one-piece suits that are situated in England. The best thing about its printed one-piece suits is that they can also do matching suits for kids. The Batoko industry is using plastic wastes of water bottles, textiles, and food containers, which are known as PET, to recycle them to polyester yarns.
The production unit of Batoko swimwear is located in China that is under the control of the BSCI code of conduct. This organization ensures that the fabric is fair and safe for the environment. Not only for making fabrics, but the company is also using paper bags and recycled plastic mail bags for the packing of their products.
If we talk about the prices of Batoko surf swimwear, then you can get it by spending only £50. Now many of the surfers will think that £50 is quite high, but when it comes to the question of our atmosphere, then this amount will look cheaper than ever.  Batoko will provide you with the best swimwear that you keep it in your swimming arsenal for years to come and do not waste more clothes.
Love & honor :
Respect & honor is a small independent house of producing swimwear. This fashion industry is using recycled polyamide and econyl to produce nylon lycra. The lycra elastics ensure that your bottoms will never slip down while playing with the waves.
Love & honor also using paper bags for packaging and shipping tasks. You can place orders at their websites and their associated e-stores. The manufacturing of this swimwear is running in Europe and Poland.
They are now coming to the price tag of this beautiful creation by using waste raw materials. One can get the love & honor swimwear as their best surf swimwear by spending only £80. We have mentioned "only" this time too.
The reason is the same. But the lycra elastic quality and comfortable nylon fabric are a little expensive.
Conclusion
Our planet needs our help, or we can say we all need help to save our planet. For this, the world has to come together for its possible contribution in this term. Purchasing sustainable swimwear and making it your first choice as best surf swimwear can also be considered as your contribution. Not only for social causes, as we said, but the recycled fabrics are also similar to virgin nylon and polyesters. So you can also get the comfort level of your previous swimwear.