Swimwear purchasing guide for surfer woman!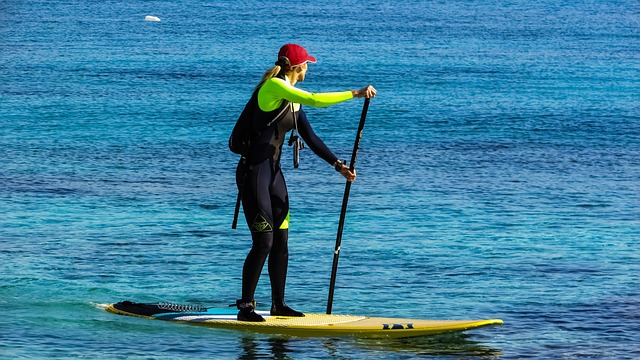 Choosing a perfect bathing suit for surfing isn't an easy task as it looks. It is because you have to balance the quality between its functionality and comfort. You also have to care about your looks.
So now, a question arises: what makes a bathing suit perfect for surfer woman, pattern, shape or fabric? As we said, it is not an easy task. Therefore it needs to answer these questions briefly, so one can be able to purchase the best one for themselves.
First of all, you have to ask from your mind about your requirements. It means the selection process depends on your desired activity like some ladies love to wander on the beaches mostly and spend less time in the water while some are visiting beaches only for surfing.
Keep your requirements in your mind and read further for the best option. It is because the different types of bathing suits surfer women are designed for various activities. Step forward to see what kind of specification you have to look at different surfing suits.
Bikini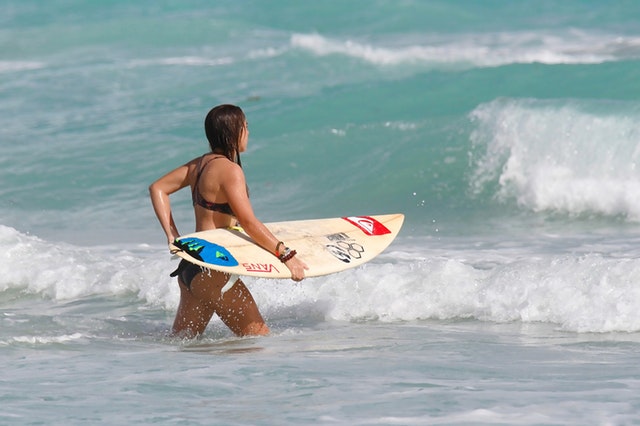 When someone starts thinking about purchasing swimwear the first picture that encounters in everyone's mind is Bikini. It is because no other suit can match the freedom level of a bikini when you are on a beach. Bikini is one of the most comfortable outfits as a surfing swimwear. But it also needs to pay attention to some significant factors while choosing a bikini for surfing.
Tops :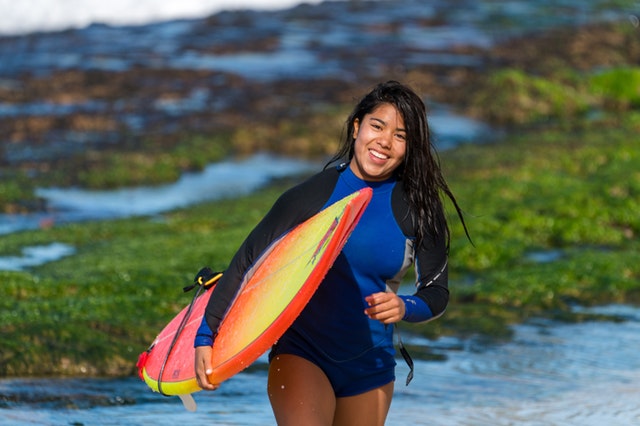 The top selection process depends on how much coverage area you want. It also depends on your activity. If you're going to be active in water than the racerback, cross back, and multi straps design will be the better option for you. These items will provide you with more comfort when you get stuck in the spin cycle.
You want more coverage area than go for high-neck designs instead of thinner straps. The important fact about high-neck tops is it is the most comfortable one and doesn't require adjusting again and again. Apart from this, you will never end up with a tan line on your shoulders.
Now discuss what to avoid. If you have to be active on your surfboard, then prevent the tiny triangles and bandeau tops. It is because these tops have less room and not a reliable option. Apart from this if you are going to lie on a surfboard then avoid the metal embellishments, beading and ruffles. It is because these can ditch on your body while lying on a surfboard.
Bottoms :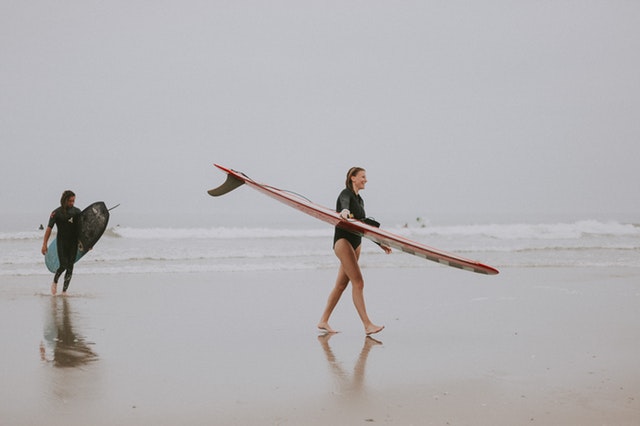 It is good to choose a smaller piece as the bottom of the suit. It is because the smaller ones will be more comfortable. Keep the coverage area in your mind before selecting one. The bottoms come in various combinations like a high waisted and low cutter. These both items are useful to get more coverage.
If you are looking for a piece which will look great while paddling in the water and provide more comfort than classic mil coverage bikini bottom will be the right choice for you. The bottoms which have strings are the more convenient one. It is because it ensures you that it isn't going anywhere, doesn't matter how active your activity is.
So these are some of the specifications of bikinis to select as a bathing suits surfer women. If you feel more comfortable in a bikini, then pay attention to the above discussed significant factors.
One-piece :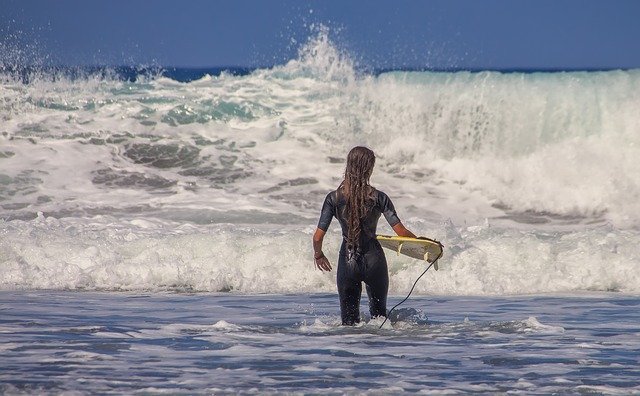 One-piece suits also can be an excellent option for surfing swimwear. It is because you will not have to adjust your tops and bottoms while playing in the water. You have to choose a perfect size and be ready to get into the waves, and it also looks more stylish.
There are designs available for one-piece suits. It is essential to look at the surfing rules because many of the rules are valid for bikinis. If everything is right, then, you can choose the long sleeve one-piece that is a new design in this field. They are more stylish and perfect for surfing, paddling and wandering at beaches. The best thing with the long sleeves is that you will not have to apply the sun-screen lotion again and again.
Rash Guards :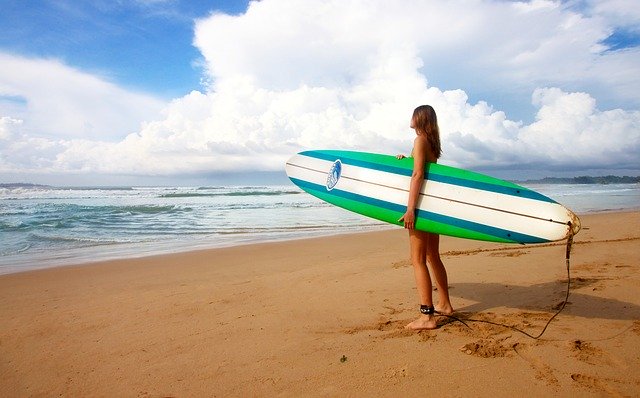 Without rash guards, any surfing bathing suit can't complete. It is because it will protect you from sunburn while playing in the water under large UV rays. It will protect your arms and torso while surfing, paddling, kayaking or simply lying on the beaches. If your Bikini has less coverage area, then the long cut rash guards will provide more coverage. One will not have to worry about wardrobe malfunction after wearing a rash guard.
Board shots :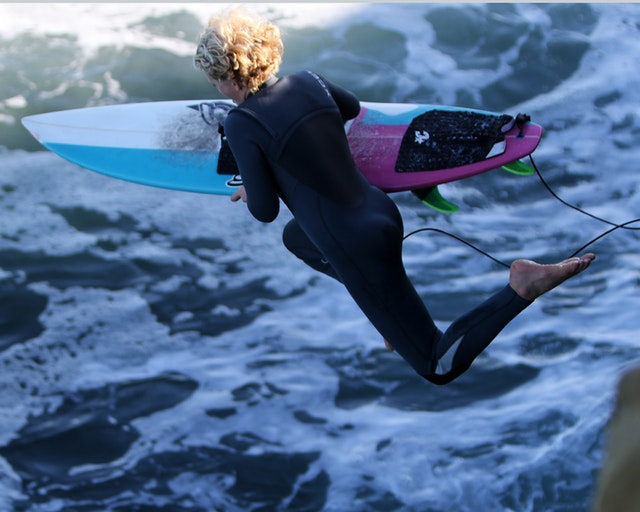 If you are uncomfortable with the short coverage of bikini bottom and want to protect yourself from abrasion, then a pair of board shots will help you out. If you have to do surfing activities in salted water, then nothing can match the comfort level of board shots. You have to pick a perfect size and a light one for more comfort. Apart from this, a board short will never put you in a wardrobe malfunction situation.
What kind of material makes bathing suits surfer woman perfect?
There are mostly two types of fabric that appear in bathing suits, polyester and nylon. These both are beneficial at their place.
Polyester :
Polyester is durable and soft kinds of fabrics which makes a bathing suit breathable, stretch and high resistant for shrinkage. It can be a most durable option and also protect your body from UV, chlorine and abrasion.
Nylon :
On the other hand, if you desire for smooth, soft and most comfortable fabric, then nylon is excellent for this. It cannot last for a long time like polyester but even won't pill soon. Nylon consumes extra stretch because of lycra that allows a free and comfortable environment.