Rocky Mountaineer: The Sights of the Denver to Moab Train Tours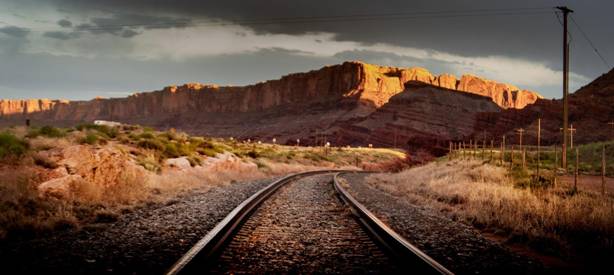 Cars, buses, planes, and more- with so many ways to travel, trains can fade into the background as outdated. Instead, they are making a comeback as the perfect way to enjoy the beautiful sights of Canada and the U.S. Scenic rides are laid back trips, allowing passengers to see parts of the country they never would have before.
Rocky Mountaineer and other train companies arrange multiple-day trips for passengers to travel from one place to another. In between the destinations, guests can view sights they would have struggled to access before. No more days of trekking to see the awe-inspiring sights, the train takes you straight to them. Glass-domed train cars allow for the clearest views of the landscape's natural beauty. As you ride the Denver to Moab train, there are many formations and other attractions to see. Some of the most notable include:
Gross Reservoir Dam
Monolith of ingenuity stands at 340 feet tall and contains an average of 627,559 cubic yards of concrete. Original construction was finished in 1954, and was named after Denver Water's Chief Engineer Dwight Gross. Serving as storage and regulation facility for water that flows from the western side of the Continental Divide. The reservoir has an impressive surface area of 440 acres. The train winds through beautiful mountain landscapes, passing through Moffat Tunnel with the water in the reservoir.
A Collection of Canyons
After the Continental Divide, passengers will witness several impressive sights, including the Byers and Gore Canyons. Byers Canyon is a beautiful eight-mile landmark full of intricate rock formations and craggy peaks. Follow the river as it carves its way into the canyon, and watch the walls rise up around you. The Gore Canyon is more isolated, with no roads and only accessible by train. The 3-mile-long canyon has approximately 1000-foot walls that shoot straight into the sky. It is popular with tourists for the white-water rapids that used to be considered unnavigable. Nowadays, Expert sportsmen and kayakers navigate the waters with their specialty equipment. They even hold a river festival that features races and other celebrations.
Glenwood Springs
Watch the Colorado River wend its way through the landscape on your way to Glenwood Springs. A town built around world-famous hot springs; Glenwood is a beautiful scenic stop for guests spending the night in a hotel during the journey. Visit local hot springs, public art exhibits, and the Frontier Museum. Experience a wide array of shopping and dining experiences before settling into a hotel for the night and continuing the journey the next day. Click here to discover all the activities available in Glenwood springs.
Mount Garfield
Passing by the oil shale formations of parachute creek, passengers will enjoy the beautiful sights of Mount Logan and De Beque Canyon, on the way to witnessing the splendor of Mount Garfield. A structure built by the forces of nature; the mountain is over 6,000 feet high. Mount Garfield is the first in a miles-long stretch of stunning limestone features. Consisting mostly of Mesaverde Group geological formations and Mancos Shale, the mountain is truly an inspiring sight to behold. Visit https://www.blm.gov/visit/mount-garfield to learn more about Mount Garfield. 
Ruby Canyon
Probably the most impressive canyon to witness during the ride, Ruby Canyon is an amagnificent25-mile-long stretch of stunning red sandstone cliffs and canyon walls. What's unique about this canyon is its access points. There are only two ways to enter the canyon, by river raft or by train car. There are no roads going in and out of the canyon, only railway tracks. This stretch of the Colorado River that winds through Ruby Canyon is a popular destination for river rafters. Painted right at the border between states are the words Utah/Colorado, designating where one state ends and the other begins.
Mount Peale
This 12,721-foot mountain is part of Utah's second highest mountain range called La Sal. Legend has it that a Spanish monk saw the snow-capped peaks and assumed it was salt, deciding there was no way such a warm area could have snow. The mountains abruptly rise up from the surrounding mountain and valley floors, giving them a dramatic, somewhat out-of-place appearance. This specific mountain was named after Albert Peale, a mineralogist part of the Hayden Survey of 1875.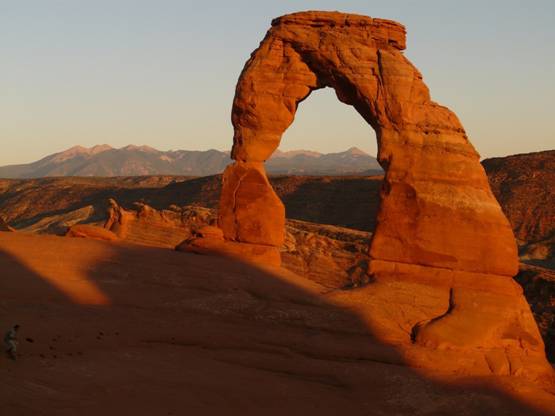 Arches National Park
While the train does not enter the park, passengers do get a brief, breathtaking view of the vista before disembarking in Moab. It's a park no one should miss out on exploring if they get the chance. It's a landscape teeming with natural stone arches, soaring towers of rock, and endless wonder. The red stone structures beckon explorers from all over the world to come walk the land. Finish off each day with a sunset worthy of even the highest society art gallery. Learn more about Arches National Park at the National Park Service website.
Downtown Moab
After disembarking from the ride, passengers will witness a true marvel of human diversity and culture. Many different kinds of people have chosen to call Moab their home, bringing with them the traditions and cuisines of their cultures. Moab might seem like the quintessential small town USA tourist passthrough, but it plays host to influences from all over the world. From Thai, to Italian, to Japanese, to Pizza, to the essential cowboy diner, there is a cuisine for everyone in Downtown Moab. There are not just good eats in Moab. The town is a hub of outdoor recreation, offering biking, boating, ballooning, horseback riding, and more. The adventure isn't over when the train stops, Moab has so much to offer, that you might want to hang around a few days before heading home.
There are so many beautiful sights to see from Denver to Colorado. Taking a train means you don't have to miss out on a single sight due to driving or other distractions. You can sit back, relax, and soak in the unique sights this once-in-a-lifetime experience will provide.